41. Unlocking the Power of Prospect Research with Helen Brown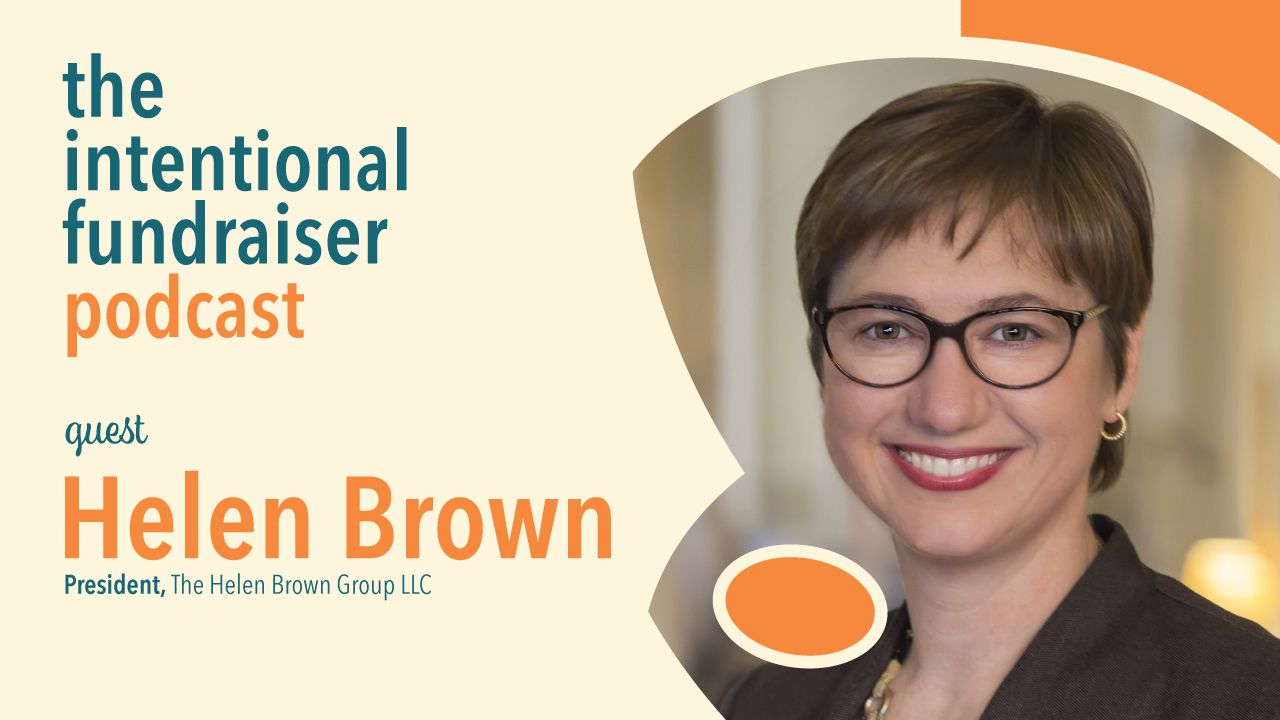 Listen now
Subscribe: Apple Podcasts / Google Podcasts / Spotify / Amazon / RSS
About this episode
In this episode of The Intentional Fundraiser Podcast, I talk with Helen Brown, President of The Helen Brown Group, a fundraising intelligence consulting firm based in Watertown, Massachusetts.
In 2021 Helen founded DAFinitive™, a research resource for donor-advised funds. Helen is co-author of the book, Prospect Research for Fundraisers; the essential handbook (Wiley).
She is a past board member and longtime volunteer for both Apra (Association of Prospect Researchers for Advancement) and NEDRA (that's the New England Development Research Association), and a frequent speaker for Apra and its chapters as well as other fundraising professional associations.
Helen is a Special Advisor on Fundraising to the board of The North American Foundation for the University of Manchester, and a Fellow of the Royal Society for Arts & Manufactures (RSA) in London.
Helen received The Ann Castle Award, awarded by New England Development Research Association (NEDRA) for service to the prospect research community in 2006, and the Apra Distinguished Service Award in 2017.
In this episode, we discuss:
What's the impact of prospect research on nonprofits?
The only searchable database to help nonprofit professionals find information about donor-advised funds
What does successful prospect research look like?
We go into a lot more detail in my latest episode, 'Unlocking the Power of Prospect Research with Helen Brown!"
Take a listen.
Our guest
Helen Brown, The Helen Brown Group LLC
"To be able to give an organization the kind of information they really need, you need to understand the context within the prospect works."
- Helen Brown, The Helen Brown Group LLC
Resources mentioned in this episode
Prospect Research for Fundraisers: The Essential Handbook (AFP) by Jennifer J. Filla and Helen E. Brown
Good Asking: The Role of Research in Efficient, Effective & Enjoyable Fundraising
Connect with our guest online
Twitter Facebook / Linkedin / Website / Email
Thank you to our sponsor
Thank you to our friends at Bloomerang for being a sponsor of The Intentional Fundraiser podcast.
Bloomerang gathers the best tools, resources, and people in a single place and, through its donor management platform, empowers nonprofit organizations like yours to carry out their missions.
Learn how First Tee of Greater Akron doubled its unique donors, improved donor stewardship, and raised more funds in the first year with Bloomerang.
Rate, review, and follow on Apple Podcasts
"I love Tammy and The Intentional Fundraiser Podcast" 👈 If that sounds like you, please consider rating and reviewing my show! This will enable me to reach more fundraisers — just like you — and help them become better fundraisers, faster. Click here, scroll to the bottom, tap to rate with five stars, and tap "Write a Review." Then, let me know what you liked most about this particular episode or how you find my podcast helpful, valuable, insightful or inspiring in some way.
Subscribe to this podcast
Also, if you haven't done so already, subscribe to this podcast. I'm adding a bunch of bonus episodes to the feed and, if you're not following, there's a good chance you'll miss out. Subscribe now!
Connect with Tammy Zonker on social
You can also connect with Tammy on Twitter and Instagram at @tammyzonker, and on LinkedIn.
We can help you take your fundraising results to the next level
To get started, learn more about joining our exclusive Fundraising Transformers Community.