36. How to Tell Powerful Stories Through Video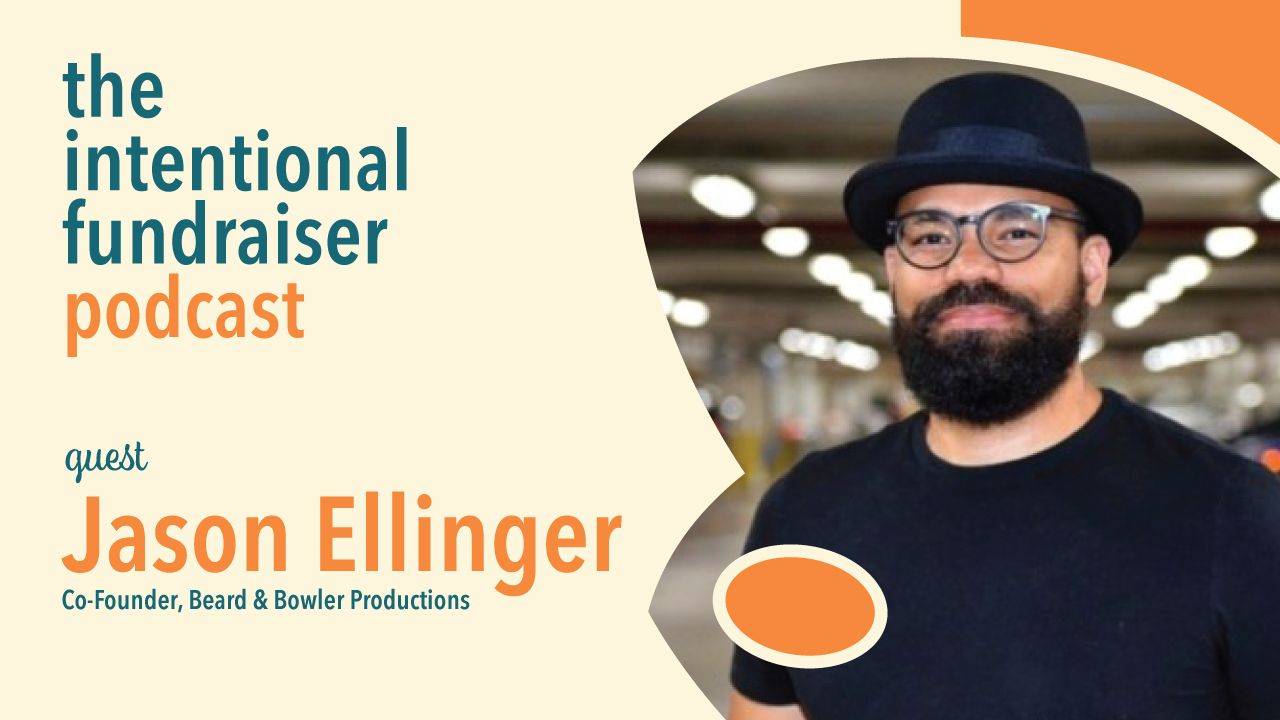 Listen now
Subscribe: Apple Podcasts / Google Podcasts / Spotify / Amazon / RSS
About this episode
On this episode of The Intentional Fundraiser Podcast, I'm delighted to be talking with Jason Ellinger of Beard & Bowler Productions.
When asked to describe himself, Jason says first and foremost he's a husband to his beautiful wife and father to an amazing 2-year-old.
Of secondary importance, he's co-founder of Beard & Bowler. He is a Commercial Filmmaker. A Magic Maker. Along with his co-founder Matt Carpenter, they help nonprofits raise funds & awareness through the power of storytelling through video.
He has worn all the hats building his business, including an English bowler. And has been privileged to work with an impressive list of organizations. Starting out as a hard-news journalist, fast-forwarding to Beard & Bowler, Jason says the best is yet to come!
I met Jason at the Nonprofit Storytelling Conference last year in San Antonio. We were both speakers. And I was blown away. He's a phenomenal storyteller. He's curious, generous, big-hearted, and humble. He's also hard to miss! This very tall man, with a thick beard, wearing a black bowler hat that exudes the warmest, most inviting energy you'll ever encounter.
He has dedicated himself to making a positive and lasting ding in the world, through storytelling.
Our guest
Jason Ellinger, Co-Founder, Beard & Bowler Productions
"Stay focused on one story. The more focused you are, the better the result will be."
- Jason Ellinger, Co-Founder, Beard & Bowler Productions
Resources mentioned in this episode
Nonprofit Storytelling Conference
Nonprofit Marketing Summit: The Big Innovation, free, 3-day high-impact virtual event
Building a StoryBrand: Clarify Your Message So Customers Will Listen by Donald Miller
Find Your Why: A Practical Guide for Discovering Purpose for You and Your Team by Simon Sinek
Connect with our guest online
Twitter / Instagram / Facebook / Linkedin / Youtube / Website / Email
Thank you to our sponsor
Thank you to our friends at Bloomerang for being a sponsor of The Intentional Fundraiser podcast.
Bloomerang gathers the best tools, resources, and people in a single place and, through its donor management platform, empowers nonprofit organizations like yours to carry out their missions.
Learn how First Tee of Greater Akron doubled its unique donors, improved donor stewardship, and raised more funds in the first year with Bloomerang.
Rate, review, and follow on Apple Podcasts
"I love Tammy and The Intentional Fundraiser Podcast" 👈 If that sounds like you, please consider rating and reviewing my show! This will enable me to reach more fundraisers — just like you — and help them become better fundraisers, faster. Click here, scroll to the bottom, tap to rate with five stars, and tap "Write a Review." Then, let me know what you liked most about this particular episode or how you find my podcast helpful, valuable, insightful or inspiring in some way.
Subscribe to this podcast
Also, if you haven't done so already, subscribe to this podcast. I'm adding a bunch of bonus episodes to the feed and, if you're not following, there's a good chance you'll miss out. Subscribe now!
Connect with Tammy Zonker on social
You can also connect with Tammy on Twitter and Instagram at @tammyzonker, and on LinkedIn.
We can help you take your fundraising results to the next level
To get started, learn more about joining our exclusive Fundraising Transformers Community.