30. A Conversation with AFP Global's New Board Chair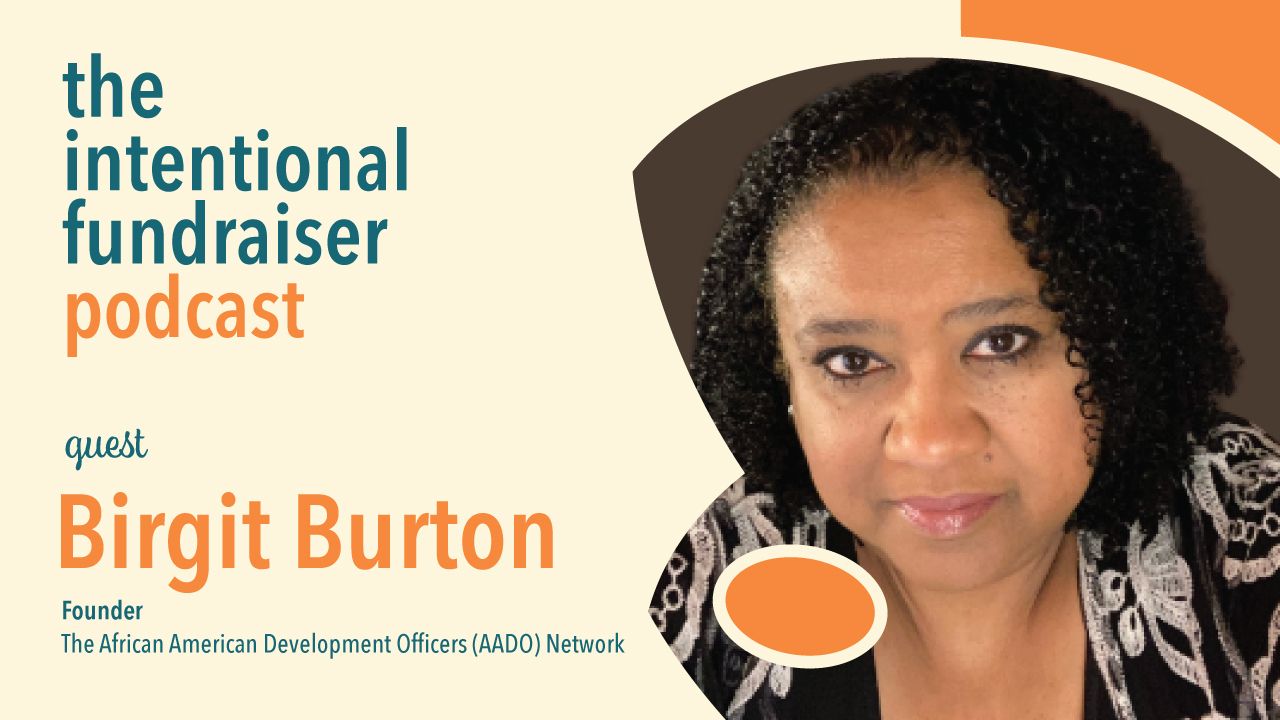 Listen now
Subscribe: Apple Podcasts / Google Podcasts / Spotify / Amazon / RSS
About this episode
In this episode of The Intentional Fundraiser podcast, I'm talking with Birgit Burton. I have to say, I love this woman! She's an incredible human. An enchanting storyteller. And a source of knowledge and inspiration in my life, and I'm so grateful for her.
I have the great privilege of serving as faculty alongside Birgit with the Institute for Charitable Giving. I learn something new every single time I hear her speak or sit down with her over a meal.
Moreover, Birgit is Chair of the Association of Fundraising Professionals Global Board. She has the distinction of being the first African American woman in AFP's 60-year history to serve in this role.
She is the Founder and Executive Director of African American Development Officers Network (AADO), which she launched at Georgia Tech in 1998 to provide professional development, education, employment support, mentorship, and networking opportunities for African American fundraisers. Take a listen.
Our guest
Birgit Burton, The African American Development Officers (AADO) Network
"The numbers are significant for the professionals we're losing. I want people to see fundraising as a true profession where they can really utilize their talents. And I want to see an increase in diversity in the profession."
- Birgit Burton, Founder,

The African American Development Officers (AADO) Network
Resources mentioned in this episode
The Philanthropic Covenant with Black America
Assessment of Inclusion, Diversity, Equity & Access For Fundraising Professionals
Connect with our guest online
Twitter / Instagram / Linkedin / Facebook / Website / Email
Thank you to our sponsor
Thank you to our friends at Bloomerang for sponsoring this episode of The Intentional Fundraiser.
Learn why Fundraisers love using Bloomerang and grab your copy of the 13 Lucky Year-End Fundraising Tips ebook.
It's not too early to start developing a strategy for the end of 2022. Give yourself ample time to plan all the elements of your year-end campaign. Campaigns take time. Early planning can benefit your organization and set you up for year-end success.
Grab your free copy of 13 Lucky Year-End Fundraising Tips now.
Rate, review, and follow on Apple Podcasts
"I love Tammy and The Intentional Fundraiser Podcast" 👈 If that sounds like you, please consider rating and reviewing my show! This helps me support more fundraisers — just like you — become better fundraisers, faster. Click here, scroll to the bottom, tap to rate with five stars, and select "Write a Review." Then, let me know what you liked most about this episode or about our podcast in general.
Subscribe to this podcast
Also, if you haven't done so already, subscribe to this podcast. I'm adding a bunch of bonus episodes to the feed and, if you're not following, there's a good chance you'll miss out. Subscribe now!
Connect with Tammy Zonker on social
You can also connect with Tammy on Twitter and Instagram at @tammyzonker, and on LinkedIn.
We can help you take your fundraising results to the next level
To get started, learn more about joining our exclusive Fundraising Transformers Community.